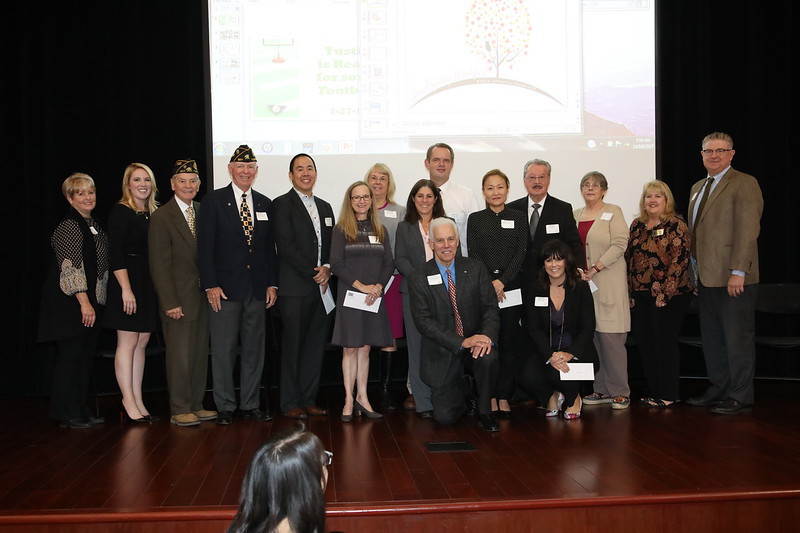 A grant to Tustin American Legion Post 227 supported the Veterans Relief Fund that helps pay unexpected bills incurred by Tustin area veterans in unusual situations.
Proceeds from this grant to Child Creativity Lab, Inc. were used to provide STEM engineering tool kits and on-site STEM Launching Pad workshops for every 3rd grade student at three (3) Title 1 disadvantaged elementary schools within Tustin.
Dance! To Your Heart's Delight received a grant to purchase tickets so that a large number of economically disadvantaged students in our community could attend their production of the Nutcracker ballet.
A grant to Family Promise of Orange County will be used to help open a new transitional home in Tustin for homeless families where entire families will be able to remain together as they get back on their feet.
This grant to Fresh Start Charity covers operation and maintenance costs for vehicles used to pick up food at Tustin stores and distribute it to Tustin families living in poverty. This program has allowed families to stay off the streets because they could take the money they were spending on food and apply it to rent.
Through 6 distribution sites in our community, including motels, community centers, the Tustin Family Youth Center and a Section 8 housing development, Grandma's House of Hope's Nana's Kidz Program distributes food bags twice each month during the school year and every week during the summer. Each child receives a bag with enough food for 14 meals covering 2 weekends. A TCF grant helps defray the cost of the healthy, non-perishable meals that can be prepared in a motel room with limited kitchen or even in a car.
ListoAmerica Inc. is received funds to purchase Raspberry Pi computers and accessories for use in coding and computing to give them the flexibility to teach larger quantities of students physical computing in after-school workshops for underserved students in the Tustin Unified School District.
Robert Heideman Elementary School, a Tustin Unified Title 1 school with a majority of ESL students, received a grant to purchase recently published books and replace worn, high demand books in their school library.
A grant to the Tustin Area Council for Fine Arts (TACFA) supports their Koncerts for Kids program by covering the cost to provide transportation for TUSD 4 th grade students to attend a South Coast Symphony Orchestra concert.
Tustin Girls Softball received a grant to purchase new nets for the batting cages at Columbus Tustin Park and help fund a new pitching machine.
This Foundation grant helped bring the Tustin Police Officers Association Cares Program (TPOACares) and their Run with a Cop and Turkey Bowl community outreach programs to an additional TUSD school, allowing them to touch the lives of more children in our community.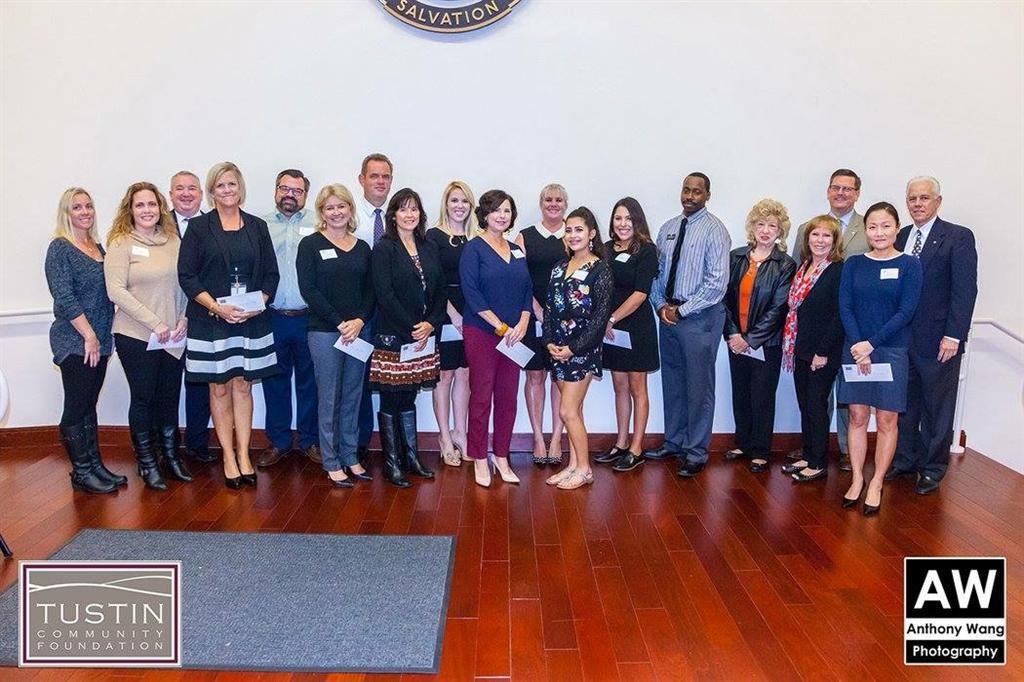 Assistance League Tustin will use this grant to support their Children's Crisis Residential Program and the CYP Youth Shelter. Funds will be used to provide each student with basic toiletries, support holiday based events and other year-round activities. The Youth Shelter offers a short-term crisis intervention residential program with the goal on family reunification. Children at risk of homelessness, institutionalization, incarceration, or hospitalization are given emergency shelter, meals 24-hour supervision, individual, group and family counseling, academic tutoring, prevention education, and life skills development activities as well as aftercare services.
The funds granted to the Boys & Girls Club of Tustin will be utilized to provide membership scholarships for the entire 2016-2017 school year to 100 youth from Tustin's neediest families. All families receiving this assistance will be required to have their youth participate in the Academic Success Program which includes computerized learning software and homework tutoring in addition to all the free enrichment programs that the Club offers.
Proceeds from this grant to Child Creativity Lab, Inc. will be used to provide STEM kits, on-site STEM Launching Pad workshops and a 1-year Child Creativity Lab Education Materials Membership for all 3rd Grade Students at Guin Foss, Benson and Loma Vista Elementary Schools. The Child Creativity Lab's mission is to provide children with stimulating, hands-on tools and a thought-provoking environment to explore and discover creativity as an essential element in critical thinking, problem solving, and innovation leading to a passion for science, technology, engineering or the humanities.
Food insecurity is a growing issue in Tustin. has given out almost a million meals to local Tustin area residents. This grant to Fresh Start Charity will cover necessary truck and trailer repairs and purchase additional non-perishable food and personal hygiene items that are needed but not regularly donated and. It is the Foundation's hope that Fresh Start will be able to meet the needs of everyone who needs their assistance.
Over 2,500 low-income students in the Tustin city parameters qualify for the free or reduced lunch program. Funds awarded to Grandma's House of Hope's Nana's Kidz Program will provide healthy nutrition bags with non-perishable meals to designated families living in Tustin. The bags will be distributed at 6 locations twice each month during the school year and every week during the summer. The meals are designed to meet the challenges of motel cooking and most can even be prepared in a car. A child who is hungry cannot effectively learn as inadequate nutrition has been linked to delayed brain development and an impaired ability to learn.
Tustin Dollars for Scholars runs a popular food booth at the City of Tustin's summer Concerts in the Park to raise funds to provide renewable 4-year college scholarships to Tustin students. TDFS will use their grant to purchase a 20×10 foot canvas pop-up printed with their name, logo and mission statement to shade their workers and increase knowledge of their organization.
This Foundation grant to the Tustin Police Officers Association Cares Program (TPOACares) will provide staffing, participant t-shirts and 26-mile Completion Medals for their 9-week Run with a Cop Program. Last year's program at Heideman Elementary School was so successful that the TPOA hopes to expand their officers across more schools and touch the lives of more children in the community. Participants not only run but are given a series of challenges to reinforce healthy eating, physical activity, proper sleep habits and "being a good citizen."
The academic success of children in later years depends heavily upon their kindergarten readiness. This year the Tustin Family and Youth Center will use TCF grant funds to purchase reading material to help the children they serve prepare for kindergarten. The TFYC successfully serves parents, children and senior citizens in southwest Tustin.
A Box of Hope is a collection of thoughtfully selected items for police officers to present to families immediately after suffering the loss of a child. Box of Hope was started by a Tustin mother after the loss of her two children to provide comfort and assistance to a family during an unimaginably difficult time and provide officers with a tangible way to offer support and show a genuine concern to grieving families. This heartfelt grant to the Tustin Police Foundation will fund 50 Boxes of Hope and it is the hope of the Tustin Community Foundation that they will never be used.